ROME — For 35 years, a remedy to Boston's erratic, pseudo spring has seemed to be a flight to the Italian Open and almost guaranteed sunshine. Rome sweet Rome has been the annual escape for me since 1973, a discovery of Il Foro Italico, the playpen whose earthen courts have been such a frustrating mystery for American guys.
Originally named Il Foro Mussolini for the dictator of the 1930s, who had it built and fancied himself as a high-grade hacker playing with a private coach, it nestles beside the Tiber at the foot of Monte Mario. Numerous of Respighi's glorious "Pines of Rome" are hunched beside the courts, and the crowds become wildly passionate if one of their own is on view. They adored Adriano Panatta, the last homeboy to win the title in 1976, and threw coins at the young Swede, Bjorn Borg, to distract him in the 1978 final against Panatta. Borg cashed in, however, and never returned.
Currently it was 22-year-old Simone Bolelli, who looked promising in a 7-6 (7-5), 6-3, loss to Andy Roddick while the parishioners chanted "SEE-MOAN-AY!" to urge him on.
This year's is the strangest Italian Championships of all, men's version anyway. The final was supposed to be a lock – No. 1 Roger Federer trying to pry the title from No. 2 Rafa Nadal, never beaten in 3 visits to Il Foro. But they were locked out startlingly early, and by unlikely saboteurs. Juan Carlos Ferrero, a countryman who had won here in 2001 but has subsided to No. 23 had as his partner Nadal's vandalized right foot in a 7-5, 6-1, decision in the first round.
Daring Federer to stop his serve-and-volley, chip-and-charge assault – an unheard of game plan these days on European clay – Radek Stepanek, a charging Czech ranked No. 27, made Roger hang his head in discouragement, 7-6 (7-4), 7-6 (9-7) in the quarters.
But even more astounding – and wackily historic – was the disappearance of the semifinals. It will be known uniquely as the tournament without semis. Tournaments without finals aren't unheard of. Ten years ago, here in Rome, the disagreeable Chilean Marcelo Rios was the beneficiary of a free ride to the title when Spaniard Albert Costa, injured during his semifinal victory, was unable to play the final.
The most famous of such defaults occurred in 1931 at Wimbledon when American Sidney Wood was awarded the championship without shedding one drop of sweat. His compatriot Frank Shields (grandfather-to-be of actress Brooke Shields) had twisted an ankle in the semis – thus a non-final. Though Shields wanted to play his pal, Wood, he was ruled off by the U.S. Davis Cup committee, saved for a Cup series the following weekend. Imagine that happening today! But at the time the players, amateurs, were closely controlled by their national federations, the USTA in Shields's case.
But a double default? Unbelievable — to justifiably use that overly-used word. Never happened before is the belief of historians, after Andy Roddick and Stepanek faded away, hardly making appearances for the Saturday semis.
Roddick, for years a klutz on clay, was experiencing his finest continental showing with every prospect of making the final. He had nipped the dangerous Spaniard Tommy Robredo, 6-3, 4-6, 7-6 (7-4), making impressive use of volleys – "my best volleying day" – and seemed ready to attack Stanislas Wawrinka, a Swiss who had eliminated James Blake.
But instead Andy was attacked – by back spasms – and surrendered after 14 minutes, down, 0-3, 0-15. Fate was not on his side. An injury time-out was no help. "Nothing to be done," he said. He will remain in Europe for rehab, hoping to be in top shape and retaining his form at the French Open.
Stepanek's brilliance evaporated overnight. He quit, blaming a stomach ache after losing the first 7 games to No. 3 Novak Djokovic, the young Serb who would go on to the championship.
"At lunch I felt pretty good," said Stepanek, "but once the match started I was feeling worse and worse. I was dizzy and weak and couldn't play." It was reminiscent of the 2006 Australian final when the "Belgian Belly Ache" struck Justine Henin, causing her to excuse herself and hand the title to Amelie Mauresmo. Stepanek and Henin should employ lunch-tasters before they report for court duty.
Thirty-eight minutes of tennis is what the poor 9500 customers got during the unhappening semis. At least they were offered partial refunds.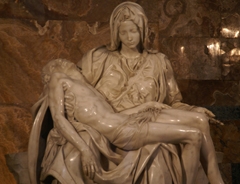 Star of the week was the little-known Swiss, good-natured 23-year-old Stanislas Wawrinka, who succeeded where his buddy, Federer, failed. Coming in at No. 24, unseeded, Stash, riding a superbly all-purpose one-handed backhand, waded through No. 16 Andy Murray, Nadal's conqueror Ferrero, No. 8 Blake and No. 6 Roddick. He gave Djokovic a good 2-hour run for the title, but Novak – the first Serb to win the 78-year-old prize – accelerated for a 4-6, 6-3, 6-3,victory, his third title of the year, added to Indian Wells and the Australian Open.
Nevertheless the lanky Wawrinka gained 14 lengths, up to No. 10, and grinned proudly when told this was a first for Switzerland – two guys in the First Ten, the other, of course, being the faltering Federer.
Djokovic says the pressure is too tough on Federer and Nadal – "expected to be in the final every time. But they're not collapsing" Does he believe that, or is he being PC as he attempts to dislodge both of them." This was hardly Novak's most demanding title, what with defaults from Nico Almagro (wrist) in the quarters and Stepanek, he had only to play four matches.
Interesting was the importance of a stroke that had seemed outlawed – the volley. Pleasing, too. Volleying was the edge for Djokovic, Roddick and Stepanek.
Nadal, 18-0 in Rome until his right foot and Ferrero caught up with him — winner of 103 of his last 105 starts in the dirt – was put on ugly public display. Treatment of Rafa's brutalized foot probably spoiled lunches of numerous viewers as it appeared on the jumbotron at the top of the stadium. A mass of blisters, cracks, sores, the foot looked like a wall that had been used by a firing squad. But he played on gamely, and was headed for Hamburg and Paris.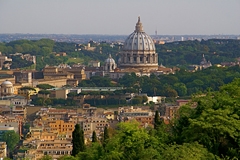 Nothing was hurt for Federer but his feelings. His backhands flew the coop like birds. He shanked at least 5, once 2 in succession. "I've been trying to fix it for 10 years," he said somberly. Is he completely recovered physically? He says yes, but his movement lacks the old slickness.
"Roger, is this the beginning of the end?" one reporter asked.
Uncharacteristically, he answered only, "Next question."