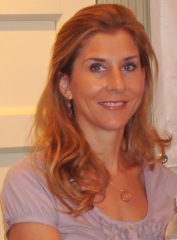 NEWPORT, R.I. – The tiny face peers at you from the showcase.  It is an historic survivor and seems to know it, looking theworse for wear but proud of being beat up by a little girl with a big stick. Grown to nearly 6-feet, no longer the aggressive – yet ever gracious – adversary, Monica Seles appeared at the International Tennis Hall of Fame to take her rightful place alongside the game's immortals.Rounding out the Hall's Class of '09 are the smooth Spanish shotmaker Andres Gimeno and contributors Donald Dell and the late Dr. Robert (Whirlwind) Johnson.  Their induction  accompanied the Campbell's Hall of Fame Championships at The Casino, the lone grass court stopover on the U.S. pro circuit.
That tiny face in the Seles exhibit is a mouse sketched on a yellow tennis ball by Monica's father, Karoly a cartoonist.  "He started me in  tennis, at 7, and he made it fun for me," Monica says. "If I didn 't have fun there was no sense in playing.  The faces on the balls were part of it, like Tom and Jerry.  I was the cat giving them whacks."
And such whacks they were.  Battering, double-barreled, powerhouse smacks.  Two hands were better than one for Monica, a lefty who slugged like a switch-hitter – both hands going both ways.  Few have done it, and none as productively as she, rising to No. 1 as a teen-ager.  By the time she was 18 Monica held 7 major singles titles.  Nobody else has gone so far so fast.
It took a while to reach the 9th, the last.  Shortly after beating Steffi Graf in the 1993 Australian final, Monica was felled by the infamous knifing in Hamburg.  We didn't see her again for two years when she reappeared spectacularly to win the Canadian Open and barely lose the U.S. Open final to Graf.
She was never quite the same, but an all-time great nonetheless.  I thought she would have been the greatest.
Thoughts of the stabbing come and go, she says matter-of-factly.  "It unfortunately changed my career.  When I decided to come back, I had to realize it was out of my control.  It was up to me to take control.  That's when I decided to play again and return to the sport I loved.  I didn't want it to be taken away."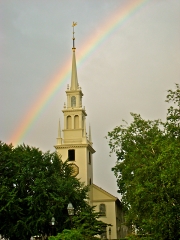 A marvelous memory for me was her first French final, 1990.  Graf led 6-2 in the first set tie-breaker only to be overwhelmed in a 6-point rush as 16-year-old Monica became the greenest champ in Paris, 7-6 (8-6), 6-4.  Her majors collection was under way.  Though seemingly off-balance and out of position, she was perfectly coordinated, moaning and murdering the balls just as she had as an elementary schooler.  By then papa's cartooned faces were retired, out of her destructive reach.
While Monica is the youngest French Open champ, good humored Andres Gimeno, a lanky Barcelonan, is the oldest.  It was the highlight of his exceptional three-stage career, during most of which he and colleagues were largely out of sight.  First there was amateurism, playing handsomely as a Spanish Davis Cupper, then signing on as a pro tourist in 1960.  The pros, gypsies on one-night-stands, attracted little attention.  But when opens dawned in 1968, Andres was still formidable, returned to Davis Cup, and at age 34 years-10 months ruled France in 1972.  "That's the record, and I don't think nobody can break it," he laughs.
He's no stranger to the Casino courts.  Gimeno, along with such Hall of Famers-to-be as Rod Laver, Ken Rosewall and Pancho Gonzalez were guinea pigs for the resident honcho, Jimmy Van Alen, who brought the outlaws to Newport in 1965-66-67 to test his revolutionary scoring methods.  They were the tie-breaker pioneers, playing for 5 dollars a point in a $ 10,000 tournament. "Strange things Mr. Van Alen made us do.  The tie-breaker worked, and lasted," Andres smiles.
Donald Dell, who played the Casino, but as an amateur with a No. 5 U.S. ranking in 1961, and Dr. Robert Johnson, who would never have been allowed to because he was black, were also revolutionaries.
Dell, the winning U.S. Davis Cup captain in 1968-69, was a strong factor in founding the ATP, the male players union, becoming the first player agent.  Among clients were his team: Arthur Ashe, Stan Smith, Bob Lutz, Charlie Pasarell.  Dell arranged a tour of war-time Vietnam for them to play exhibitions for U.S. troops.  He was a fine commentator for PBS – my estimable partner for several years — when that network was ahead of the rest, launching regular, complete coverage of tennis.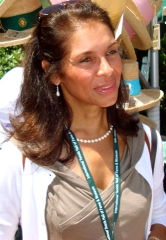 "I'm proud to have been part of professionalizing the game," Dell says, "so that many players could male a living on a world-wide ciurcuit."
Known as "Whirlwind" for his college football-carrying prowess, Dr. Johnson, a Lynchburg, Va., physician who died in 1971, founded the ATA (American Tennis Association) to nurture tournament play for blacks, then unwelcome in U.S. Tennis Association circles.  He tutored promising players on his backyard court, among them Althea Gibson and Arthur Ashe.  With his backing, and lobbying for fair opportunities for blacks, Althea hurdled the color bar in 1950, eventually scoring the first majors for blacks (French in 1956, Wimbledon and U.S. in 1957-58).  Arthur followed with the U.S. in 1968, Wimbledon in 1975.
Who knows?  Without Johnson's distinguished leadership, those two and the Sisters Williams night never have made it.  He was a welcome whirlwind indeed.