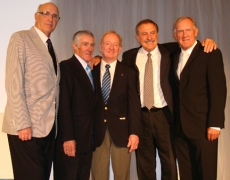 "Laver's lost the first two sets!"
The cry ran through the Wimbledon press room like wildfire.  But it was chilling to me.
Wimbledon '69 had barely begun, and the defending champion, "Rocket" Laver, was under siege, losing badly to an anonymous Indian in the second round on Court 4, a patch of grass hardly fit for the emperor.
To the other reporters, it was the possibility of a juicy upset story.  Not for me.  I was helping Laver write his memoir ("The Education of a Tennis Player") – but the New York publisher had made it clear: No Grand Slam, no book.  So I was not exactly objective on the subject of Rodney George Laver at the halfway mark of his second Slam.
Two Slams!  Imagine that.  I doubt that any player can.  Despite all the careless useage of "slams," in the press and on TV, the fact remains that a genuine Slam – the Australian, French, Wimbledon and U.S. within a calendar year — has been achieved by merely five people, a Quintessential Quintet: Americans Don Budge (1938) and Maureen Connolly (1953), Laver (1962, 69), Aussie Margaret Smith Court (1970), German Steffi Graf, aka Frau Steffi Agassi (1988).  That's it.  Pete Sampras has 14 majors, Roger Federer 13 – but no Slams.
Any way, I rushed out to Court 4 where  tall Premjit Lall was killing my mate and our book, serving at 6-3, 6-4, 3-3.  It was chock-a-block jammed, no way to see anything but the rackets and hands of the server.  On thistrembly occasion Laver said he felt like he was holding a heavy skillet.  Forty years later, re-visiting the current Open, he can still recollect the momentary fear.  "Losing wasn't the worst thing that could happen," he says, "so I loosened up."  Lall tightened up. He bungled an overhead that would have taken him to 4-3, and Laver began taking over, closing with a double-bagel such as Roger Federer hung on Juan Martin Potro Tuesday evening, 3-6, 4-6, 6-3, 6-0, 6-0.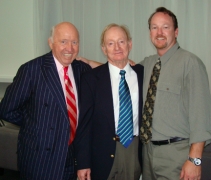 As he rocketed on through the greatest of tennis seasons (18 singles titles in 31 tournaments, playing doubles as well) Rod was deeply concerned about something more pressing than wins and losses.  His wife, Mary, experiencing a difficult pregnancy, wanted him to return to their California home following his Wimbledon championship triumph over compatriot John Newcombe.
Though wanting to be there, he was torn by his commitment to the immediate tournament, the U.S. Pro Championships in Boston.  He felt obliged to defend a title he'd won four times because the host, Longwood Cricket Club, had supported the small band of pros during their uncertain days as the game's outlaws when the big tournaments were restricted to so-called amateurs.
Feeling he would suffer an inevitable post-Wimbledon letdown, he told Mary he'd be home in a couple of days.  Amazingly there were no letdowns that summer.  A week after holding off Newcombe at Wimbledon, he repeated that performance at Longwood.
"Laver was unreal," applauded Arthur Ashe, the 1968 U.S. Open champ.  "You can't win Wimbledon, fly the ocean, and win an important title the following week.  But he did."
Eventually Laver got home for a few days, but he kept on winning, staying in touch with Mary by phone – "Some of the calls a little trying," he admits.  "She was having a tough time. "  Nevertheless, the prize was more substantial than the Slam: his son Rick Rodney, who is with him here.
Seeing them in the presidential box is a reminder of the extraordinary journey that took the "Rocket" from an antbed court on the family property in the Queensland bush outside of Rockhampton to the glistening stadium named for him.
Born the year another redhead, Don Budge, became the first Slammer, 1938, Rod was a tyke of about 8 when, like a moth, he was attracted by the few lightbulbs that allowed the Lavers to play on their homemade court after working hours.  "There were a lot of country courts like that," he says. "You knocked over an anthill, spread it out and rolled it, put up some wire for a backstop.  String some bulbs and you had a court.
He took to the game, and an itinerant coach, Charlie Hollis, a great help, felt he could be a pretty fair player.  But the nickname "Rocket" came up as a laugher because he simply wasn't.  Harry Hopman, the renowned Davis Cup captain, remembered, "He was no rocket at first, but he worked harder than anyone else, became quick and agile.  No one was more competitive. He was great in every aspect."
But ever a sportsman of subdued manner.  No fist-punching or oaths of "Come on!"
Wife Mary believes it was his superior competitive nature that pulled him through a near-fatal stroke in 1998 and back to excellent health.  "He wore out therapists," she said.
It was an Aussie, Jack Crawford out of Albury, who inspired the term Grand Slam, yet couldn't make it.  In 1933 popular "Gentleman Jack," as he was called in tribute, won the Australian, French and Wimbledon titles, an unprecedented triumphant campaign.  Although weary, he battled to the U.S. final, prompting New York Times columnist John Kieran to write that if Jack won he  "would be making a grand slam as in bridge, taking all the tricks."  However, there wasn't enough left in his tank, and he was beaten in five sets by a Pom, Fred Perry.
The feat remained undone until the lanky Budge came along.  He plotted to succeed where Crawford failed, but, hoping to avoid pressure from the press, told no one but his pal and doubles partner Gene Mako.
Budge was at Forest Hills in 1962 to congratulate Laver on joining the exclusive club.  But the U.S. Championship, like the other three, were amateur affairs.  Laver knew that such wolves as Ken Rosewall, Lew Hoad, Andres Gimeno and Pancho Gonzalez lurked outside the wall, and that he was not the world's best.  He turned pro to join them, and had to get used to beatings as he strengthened.
In 1969, unlike Budge, Laver acknowledged his quest: the first Slam open to all, amateurs and pros.  His agent sold the book rights, contemplating a Slam, and he, at 31, set out to confirm himself as absolutely No. 1.  A big guy only in deeds, he seemed a slight body attached to King Kong's left arm.
But it all nearly came apart at the beginning when the introductory Australian Open was held on dicey Brisbane grass.  Even though admired and liked by his Aussie mates, he was also their target.  Those were the days of Aussies as Down Under-takers, burying any who questioned their rule of the planet.
In the semifinals, Rod and another country lad, Tony Roche from Tarcutta, were tangled hour after hour in a 40 degree afternoon.  There was no debate about closing the roof.  The brilliantly sunny sky was the roof.  Nor were there chairs and 90 second changeovers, although a 10 minute break for a quick shower was permitted after the third set.
On and on they went, stuffing wet cabbage leaves in their hats, swabbing with iced towels on the changes.  One break in the fifth set settled it as Rod registered his longest, most arduous Slam victory, 90 games (pre-tie-breaker) – 7-5, 22-20, 9-11, 1-6, 6-3, in 4 ½ searing hours.
After that, the final was a breeze, 6-3, 6-4, 7-5, over the stylish Spaniard, Gimeno.  Andres was the lone non-Aussie roadblock in eight Slam finals.
In Paris, yet another countryman, towering Dick Crealy, was trouble, the only foe to win the first two sets.  That was a second round recovery, 3-6, 7-9, 6-2, 6-2, 6-4.  He needed perhaps his finest hour in the final to take down his rival of more than 100 matches, Rosewall, the Doomsday Stroking Machine, 6-4, 6-3, 6-4.
After the Lall scare, he had one other 5-set trial at Wimbledon in lofty, big-serving future champ Stan Smith.  Newcombe, the champ to-be in 1970-71, played the final cleverly, but fell, 6-4, 5-7, 6-4, 6-4.
Constant rain reduced the Forest Hills lawns in New York to a quagmire, and delayed the final until the misty third Tuesday, attended by merely 4000 or so in rain gear.  In the quarter-finals Rod had to beat a fellow Queensland antbed refugee, Roy Emerson, whom he had repelled in three of the four 1962 finals.
In the final was that other bushie, Roche, who held a 5-3 edge for the year.  In sloppy going Tony took the first set. Rod then got permission to wear his left-over spiked shoes, and sprinted away, 7-9, 6-1, 6-2, 6-2.
What a relief for both of us, and the good  Mary.  The baby was overdue.  Rod said, "I'd never go to a racetrack with that doctor who predicted an earlier date."  Holding a $ 16,000 winner's check, he had to borrow a dime for a pay phone to make a collect call to ask her how she was doing.  Mary was fine.  He was home for the birth of Rick, the fifth leg on the Grand Slam.